CWP-Fairfield and the Stags both believe that sports matter.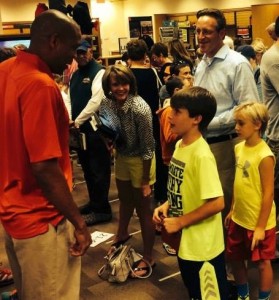 Students who participate in athletic activities of all kinds — from soccer to swimming, karate to kayaking, ping pong to parkour — learn critical life skills that support their success in life and in the classroom. And the fact that so many kids play sports and games of all kinds makes them an excellent entree into academic subjects that can otherwise seem less-than-exciting to young people who want nothing more than to move.
Sportswriter and young adult novelist Mike Lupica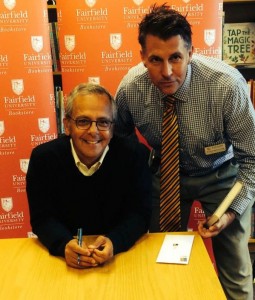 recently visited the Fairfield University Bookstore in downtown Fairfield, where he drew an impressive crowd of young readers, many of them boys, who turned out to hear him read from his latest bestseller, Fantasy League, and to have him sign copies — some of them obviously well-loved! — of his other books.
Fairfield University Athletic Department and Connecticut Writing Project-Fairfield support youth who build skills for life! Together, we want to help youth in our community recognize their mentors on a grand scale. We're asking students to nominate the teachers, coaches, and/or mentors who help them focus, work with integrity, take responsibility, become self-aware, build self-esteem, and keep a sense of humor, in and out of the classroom, and on and off of the court, course, or field.
Winning submissions will be awarded 4 tickets for themselves and 4 tickets for their mentor to a Fairfield University athletic event, where both individuals will receive recognition during the breaks in action.
WHO?
any student, grades k-8
WHAT?
an opportunity to recognize a mentor and score tickets to a Fairfield University athletic event
WHERE?
on campus or at Webster Arena
WHEN?
anytime during the 2014-15 academic year… in other words, now!
WHY?
because we believe in student athletes and in athletic students
HOW?
write us a letter telling us about your awesome teacher, coach, and/or mentor today!
To nominate a teacher, coach, or mentor and win tix to a Fairfield University athletic event, click here.