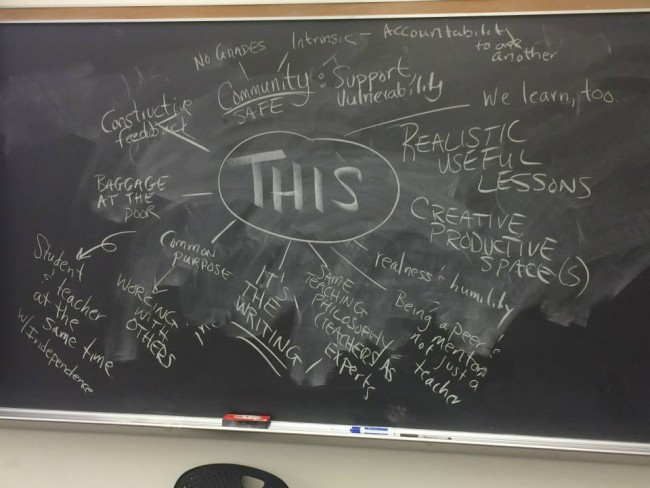 The Connecticut Writing Project at Fairfield University, an affiliate of the National Writing Project, is dedicated to improving students' writing abilities by strengthening the teaching and learning of writing, providing professional development programs for classroom teachers, and expanding the professional roles of teachers.
As a part of this commitment, we not only design professional development workshops, we also host our very own, highly acclaimed Invitational Summer Institute.

Professional Development Workshops

Contact CWP@Fairfield.edu for information on how we can customize workshops to fit the needs of your school.
We Support Educators – In 2015 over 450 educators received over 2,700 hours of professional development. We have exceeded that number in 2016.
We Support Community Schools in Connecticut – We follow the National Writing Project professional development model united with Fairfield, Hartford, Litchfield and New Haven counties.
Invitational Summer Institute?
The Invitational Summer Institute (ISI) is a textual, textured, and tech-tual professional development experience for teachers in southern Connecticut and southeastern New York State. It is designed by teachers and writers for teachers and writers, with the goal of increasing literacy leadership, knowledge, and expertise.
Teachers and writers at the ISI compose in a variety of genres (personal, creative, and real-world) and explore best practices for teaching writing. The culminating project is the design of a demonstration or workshop that attendees can bring back to their schools and communities and present at local, state, and national conferences. There are daily workshops to enhance literacy instruction, presentations from ISI graduates and other literacy experts, and multiple opportunities to interact with students and to see how writing instruction of various kinds plays out in a classroom setting.
Graduates, or fellows, of the Invitational Summer Institute become teacher-consultants who are recognized as literacy experts across the state, the northeast, the nation, and the world. Entrusted with the best ideas of their summer institute peers as well as new teaching perspectives, teacher-consultants embrace and carry forth the challenge of exploring new teaching theory and instituting new practices into their classrooms and their schools. They serve as models and as mentors, designing and implementing projects that promote and sustain the work of the three Connecticut Writing Project sites, as well as the National Writing Project. Participants in the Invitational Summer Institute don't just learn to teach writing; they learn to be teacher leaders.
This program runs every other summer. We are now accepting applications for summer 2018. Please click HERE to begin application process.