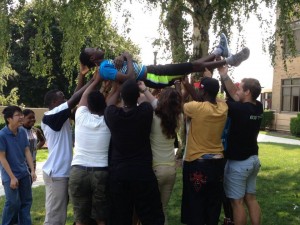 On July 21st, the Connecticut Writing Project launched its very own UBUNTU Academy. Students from countries such as Vietnam, the Dominican Republic, and Zimbabwe have each made his or her own individual odyssey to America in search of a future of freedom and possibility. Some have been here for several years and others only months. The one thing all our UBUNTU students share is the desire to create a community in which they felt comfortable helping one another improve their collective reading and writing skills in English. In short, UBUNTU sought to build on and add to the various literacies each student brought to this, their new country.
From the first day, I could tell that UBUNTU would be a great success. Bryan did a great job breaking the ice and forming first, tentative bonds with fun activities and games. At first, students seemed hesitant to participate, but by the end, they were doing trust falls into one another's arms.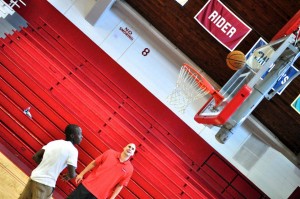 Later on in the week, the UBUNTU Academy had the chance to kick it with the Fairfield basketball team. The meeting went down in Alumni hall, and UBUNTU students heard from several coaches and Stags about the importance of athletics and academics in building life skills. UBUNTU students asked questions of the Division 1 athletes about college life, their own life journeys, as well as a variety of other topics. Of course, the session ended with lessons in the chest pass and how to complete a successful layup.
Basketball was, by this time, a familiar subject for the UBUNTU students. They had been using Kwame Alexander's The Crossover as a group text and had been doing read-alouds and reflections on the story of twin brothers working out their problems on and off the court. Many days found UBUNTU students sitting under a shady tree, taking turns reading to each other.
It was an honor to be a part of the UBUNTU Academy for two weeks. The progress that these relocated refugee youth have made cannot be captured in words, but it was remarkable to see it happen, day in and day out, in small steps and great leaps. I hope the best for them all in the future, and I am grateful to have been able to witness the spirit of ubuntu grow in Room 9 on the ground floor of Canisius Hall.- Steven